Cathay Pacific and Singapore Airlines saw continued traffic growth in March, on the back of robust travel demand across their respective networks.
Hong Kong-based Cathay carried more than 1.3 million passengers during the month, a jump of nearly 20% compared to February.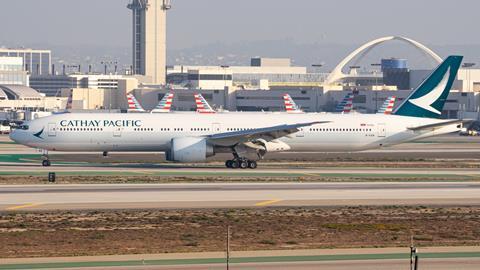 The airline's commercial and customer chief Lavinia Lau says traffic from North Asia - including Japan, South Korea and Mainland China - were the main drivers for demand.
Cathay, together with low-cost unit HK Express, operated at 50% pre-pandemic by end-March, with a network of more than 70 cities.
Lau notes that demand remained strong through April, particularly through the Easter holidays, where the airline carried more than 50,000 passengers per day - a new high since the pandemic began three years ago.
"We are actively working to add more flights to our schedule to satisfy customer demand, in particular between Hong Kong and the Chinese Mainland. Between now and the end of October, the number of return flights will be progressively increased to about 160 per week, covering 16 airports in 15 cities," adds Lau.
On the cargo front, Cathay saw an improvement in tonnage carried in March, following a post-Lunar New Year lull, but warns that demand will soften again in April.
"We will adjust our freighter capacity in an agile manner to reflect the demand picture, which remains variable but overall softer than prior periods. We are nevertheless continuing to expand market coverage for our customers, as the cargo belly space and network offered by our widebody passenger fleet continues to grow," states Lau.
Like Cathay, SIA reported "strong passenger traffic and load factors" across its network. In March, the carrier and its low-cost subsidiary Scoot carried 2.7 million passengers, more than three times higher year on year, and a 14% jump against February.
The SIA Group grew capacity by nearly 11% month-on-month, and are operating at 79% pre-pandemic levels.