Cathay Pacific, All Nippon Airways (ANA), and the Qantas Group have announced initiatives aimed at shoring up their future supply of Sustainable Aviation Fuel (SAF).
Hong Kong's Cathay Pacific has announced a collaboration with China's State Power Investment Corporation (SPIC) to develop a SAF supply chain, says Cathay.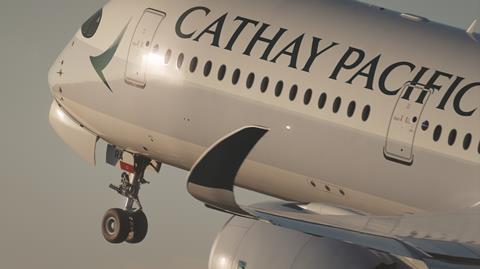 A memorandum of understanding between the two companies covers four SAF plants to be established by SPIC.
"We are very excited to be partnering with SPIC to support and accelerate the development of the SAF industry in China," says Cathay chief executive Ronald Lam.
"Cathay Pacific has a target of using SAF for 10% of its total fuel consumption by 2030, which is a core component towards reaching our goal of net-zero carbon emissions by 2050."
Cathay will also assist SPIC with the SAF certification process.
Separately, ANA says that it will procure SAF from Itochu Corporation for use aboard international and domestic flights from Tokyo's Haneda and Narita Airports.
The SAF is blended under the auspices of an initiative led by the Japanese government. The SAF solution to be used was originally procured from Neste.
Finally, Qantas has teamed up with Airbus and the Queensland government in a programme to convert agricultural by products including sugarcane into SAF.
The pact sees the three companies investing in a biofuel facility being developed by Jet Zero Australia and LanzaJet.
Qantas and Airbus will jointly invest A$2 million ($1.3 million), and the Queensland government A$760,000. Overall, the initial capital raising comes to A$6 million. The funds will be used for a detailed feasibility study and early-stage project development.
Qantas Group chief sustainability officer Andrew Parker said the funding is an important first step toward developing a local SAF industry.
"Qantas will be the largest single customer for Australian-made SAF to mee our emissions reduction targets, which is why we're investing in the ideas and technology that will build a local SAF industry," says Parker.
"This is one of several projects we are looking to fund this year, all of which will help accelerate the decarbonisation of the aviation industry."