Danish charter carrier Jet Time is filing for bankruptcy, the latest air transport casualty of the crisis triggered by the coronavirus pandemic.
Jet Time states that the restrictions on travel and closed borders have proven "too great a challenge" for the operator.
Chief executive Jorgen Holme is submitting the filing to a bankruptcy court in Copenhagen.
"Our professional organisations have worked tirelessly to find solutions with us to avoid bankruptcy and secure jobs," he says.
"But with the prospect of at least a six-month peak season with no revenue at all, I must unfortunately admit that it has become an impossible task."
Jet Time says the company's performance initially indicated that this year would be its best, with its fleet of aircraft "fully booked" throughout the summer, as well as being allocated for wet-leasing.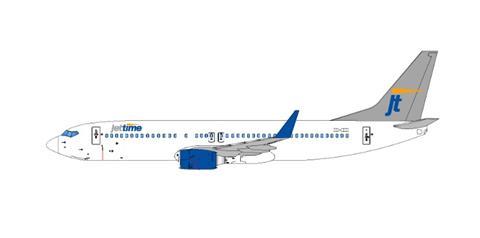 The carrier operates a fleet of around 11 Boeing 737-700s and -800s, but the jets have been grounded since 23 March.
Jet Time says it had been planning to fly 350,000 passengers.
"The consequences of the shutdown, and the restrictive and changing travel guidelines, meant tour operators cancelled contracts with the company," it says.
Financial aid packages from the government had helped, but the company says more support was needed.
The carrier says it had employed over 400 personnel, most of which had been furloughed before they were laid off in a mass dismissal – with the possibility of being rehired within a year – in a final bid to save the company.
"From one day to the next, we lost our entire earnings base without certainty about when we could start flying again," says Holme.
Jet Time's owner, Lars Thuesen, believes there remains a market for an independent Danish charter airline post-crisis.
He has formally registered a new company – with the similar name 'Jettime' – with a view to re-establishing a charter carrier for Nordic customers either in 2021 or 2022.
Theusen argues that the charter market could be back to a profitable level in summer 2021, and he envisions that the new company would use five 737s and part of the assets and workforce of the collapsed carrier.