China Eastern Airlines is to purchase another 100 Comac C919 twinjets, with deliveries of the aircraft set to commence next year.
Five aircraft will be handed over in 2024, with another 10 in each year from 2025-27, rising to 15 over 2028-30, with the final 20 arriving in 2031.
The airline states that it reached the agreement with the Chinese airframer on 28 September.
China Eastern was the launch operator of the C919, putting the aircraft into service in May this year.
The airline puts the value of the aircraft – at catalogue prices – at around $9.9 billion.
But it states that Comac has granted "substantive price concessions" over the order, and the purchase price is "significantly lower".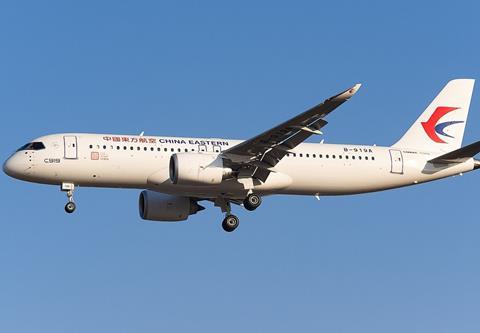 The number of aircraft covered in the agreement is determined by the carrier's network and fleet requirements, it adds, but also the supply capacity of Comac, based on commercial and production limitations.
All C919s are powered by CFM International Leap-1C engines.
China Eastern says the air transport market has shown a "favourable trend of steady recovery" and the purchase is intended to securing sufficient capacity, in the face of future demand and industry competition.
"During the delivery period of the [C919s], a large number of narrowbody passenger aircraft in the company's inventory will be phased out from the fleet due to their age and lease expiry," it states.