China Express Airlines has detailed its agreement to take 100 domestically-built jets, with at least 50 set to be Comac ARJ21s.
It had previously disclosed, in June, provisional plans to acquire a mix of ARJ21s and Comac C919s.
China Express says that "all or part" of the balance of 50 jets will be C919s.
It states that the aircraft will be delivered within 10 years from 2020, and has set out a schedule for the first 50.
Under this schedule two aircraft will be introduced this year, six in 2021 and eight in 2022.
Deliveries will continue to accelerate over 2023-25 with nine, 10 and 15 respectively arriving over the three-year period.
"Both parties will negotiate and confirm separately delivery plans for the other aircraft," says the carrier, adding that – should it opt for the C919 – the price, deliveries, and other issues will depend on production capability.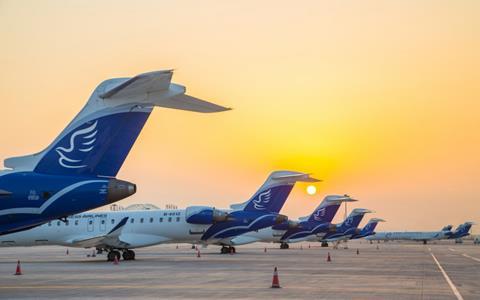 Shareholders still need to approve the aircraft purchase, says China Express. It states that the order will steadily expand the fleet and allow it to "focus further on regional aviation".
The airline says the catalogue price of the extended-range ARJ21-700 is $38 million, which would value the deal at $3.8 billion if it stayed with the type for the entire order.
China Express has 51 aircraft, comprising 13 Airbus A320 and 38 Bombardier CRJ900 jets. With the new deliveries the carrier expects to double its fleet to 101 jets by 2025.
Comac, which has delivered 34 aircraft to customers, is expected to become the company's largest single aircraft supplier by 2025, says the carrier.