Chinese carrier Loong Air has become the first to sign for a new Airbus pilot-training scheme, whereby airlines use operational and training data to tailor and adapt the programme.
The evidence-based training initiative extends the competency-based training and assessment product already offered by the airframer.
Chinese carriers, says Airbus, are leading the "appetite" for evidence-based training, as a result of regulatory measures developed by the Civil Aviation Administration of China which include requiring the country's airlines to implement such schemes by 2024.
Hangzhou-based Loong Air chair Liu Qihong says the carrier will be the launch customer for the new Airbus service, and the first operator in China to "step into the new era" of flight training.
The evidence-based training service is intended to be flexible and enable airlines – with their own instructors and full-flight simulators – to conduct the training rather than having it take place at a dedicated Airbus centre.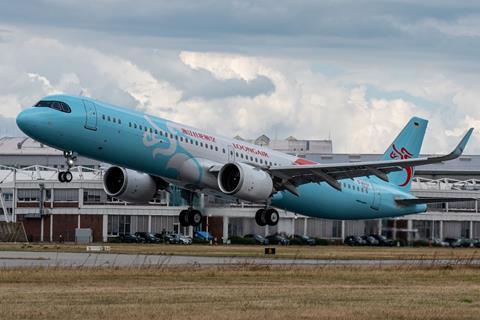 With data analytics central to the concept, Airbus has signed a memorandum of understanding with human factors and training-data specialist Hinfact, located in Toulouse.
Hinfact says the complexity of aircraft systems, with their high level of automation, has changed the way pilots interact with aircraft and demands evolution of technical and non-technical skills.
Airbus and airlines will acquire Hinfact software as part of the evidence-based training deployment, using it to draw operational and simulator data and, through its analytics capability, identify areas for competency improvement and suggest the need for customised training sessions.
"[Evidence-based training] addresses new regulations that are being recommended [or] made mandatory by airworthiness authorities around the world, in acknowledgement of the innovations in aircraft technology and developments in aircraft operations that pilots are being faced with," says Airbus.
It says the initiative is being offered as an option to customers as an alternative to recurrent training and checking for pilots.