German state financial support to Condor has been re-approved by the European Commission after the figure was revised in the aftermath of a court ruling on the way the aid was calculated.
The Commission says it has approved two measures – comprising €204 million in damage compensation and €321 million in restructuring assistance – totalling some €525 million.
It states that the European General Court's ruling in June annulled the Commission's previous approval of a support package for Condor, which included two state-backed loans for damage compensation totalling €550 million.
This loan offer had followed the withdrawal of Polish company PGL as a potential investor in Condor.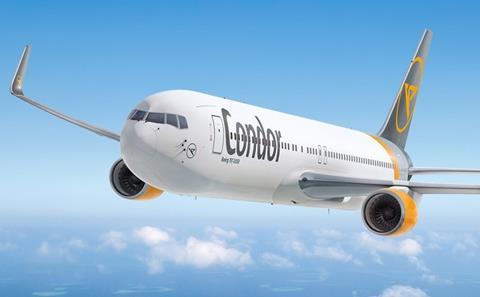 But budget carrier Ryanair challenged the state aid, alleging that the Commission had not met obligations to explain fully the way it had been calculated. The court agreed and gave the Commission the opportunity to rethink the calculation.
The Commission says it has adopted a new decision on the Condor support "taking into account the judgement" from the General Court.
It has approved €144 million of loans for the damage period from 17 March to 31 December last year, plus another €60 million for damage from 1 January to 31 May this year – a total of €204 million.
The German government is also granting €321 million in restructuring aid to Condor, which includes writing off €90 million of existing loans and €20 million in interest.
Assessment by the Commission has found the measures will compensate Condor for damage directly related to travel restrictions and damage inflicted by the pandemic, and that they are "proportionate".
"In particular, the route-by-route quantitative analysis submitted by Germany for the compensation relating to the period from 1 July 2020 to 31 May 2021 appropriately identifies the damage attributable to the travel restrictions still applicable to specific routes," it states.
"Therefore the compensation does not exceed what is necessary to make good the damage on those routes. The risk of the state aid exceeding the damage is therefore excluded."
Condor and its private investor Attestor are making a "significant own contribution" to the cost of restructuring, the Commission adds, funding over 70% of this expenditure.
Creditors have agreed to write off over €630 million of claims, it says, and Attestor has committed to inject €200 million of equity and provide further €250 million for Condor's fleet renewal.
Condor has also agreed to cap capacity during the restructuring period to September 2023 to limit potential distortion of competition arising from the restructuring support.