Air France has carried out an Airbus A350-900 service to Montreal powered by a biofuel sourced from waste cooking oil, part of a combined effort to produce sustainable aviation fuel in France.
The fuel was created by project participant Total, without using virgin plant-based oil, at its La Mede biorefinery located in the south of France and its Oudalle plant near Le Havre.
Air France says flight AF342, which departed Paris Charles de Gaulle on 18 May, is the first long-haul flight to be powered by French sustainable aviation fuel – the result of a co-operation with Total, Airbus and Paris airport operator Groupe ADP.
The airline says the flight – operated by F-HTYI with a 16% blend of the fuel – is a "tangible" illustration of the companies' "shared ambition" to decarbonise air transport and develop a French sustainable fuel supply chain.
Air France has a particular interest in demonstrating its environmental credentials because French government rescue funding is conditioned upon such commitments.
The use of hydrogen fuel at Parisian airports is among the projects being explored by Air France-KLM, Groupe ADP and Airbus.
But while hydrogen-based flight would require substantial changes to airport operations, Air France states that the incorporation of biofuels needs no modification to aircraft, engines, or storage and distribution infrastructure.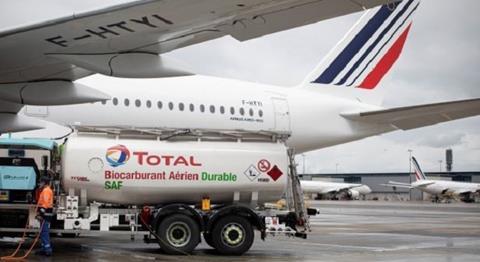 Although the sustainable fuel on the Montreal flight avoided the emission of 20t of carbon dioxide, the blend level remains far short of the regulatory 50% limit. Airbus is engaged in a project to test an A350 with 100% sustainable fuel, but has previously noted that the blend levels being used by carriers remain low.
French legislation calls for aircraft to use a blend of at least 1% by 2022 for all flights originating in France.
Air France-KLM chief Ben Smith says sustainable fuel, alongside fleet modernisation, is the "main lever" for halving carbon dioxide emissions per passenger-kilometre by 2030.
"France currently has the opportunity to position itself as a leader in the production and use of sustainable fuels and we are doing everything possible to contribute to this with our partners," he says.
"Supporting the emergence of an economically-viable French aviation biofuel sector for all the parties involved is a strategic priority for the country and the group."
Another Total plant, Grandpuits near Paris, will become a producer of sustainable aviation fuel from 2024.
"After successfully launching production of sustainable aviation fuels at our facilities in France last March, we are continuing to adapt our industrial facilities to prepare for the growing demand from the aviation industry in the coming decade," says Total chief executive Patrick Pouyanne.