Former IAG chief executive Willie Walsh believes the prospects for greater cross-border merger freedom have receded in the wake of the air transport crisis, because governments are more likely to act to protect airlines.
Speaking at a Eurocontrol event on 22 September, Walsh said he expected consolidation in the form of airline failures, describing them as "unfortunate" but stating that "there's a lot of weak airlines out there".
But he adds that, while some moves towards mergers might evolve, they are "some time away" and he does not believe companies are prepared to "stress their balance sheet even more than they require to".
"Any merger activity is going to have to be accretive from day 'minus one', never mind from day one," he says.
Walsh says he was optimistic, a decade ago, that ownership controls would have been lifted by now, enabling airlines to participate in global, cross-border mergers.
"It hasn't happened and, quite honestly, I can't see it happening. It's unfortunate because I think it has held back what could have been some sensible restructuring of industry," he says.
"I'd like to believe we will see some change. But it's been slow in coming. And I don't think this is going to convince governments that they should change it now.
"I suspect there'll be a lot of governments who will come under pressure to keep these restrictions in place as means of protecting some of the airlines within their sphere of operation."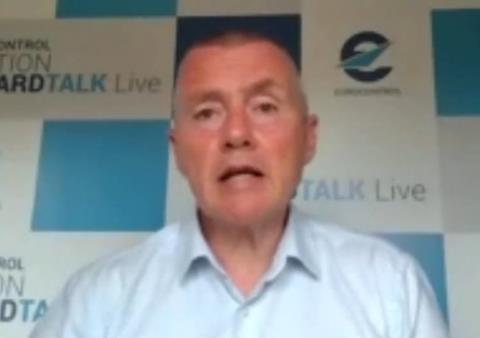 Walsh says he believed the strengthening of airlines during the post-crisis recoveries of 2001 and 2008-09 might have led to greater relaxation of ownership, owing to a greater desire among carriers to pursue consolidation.
"It shouldn't be that it requires a crisis to make that change," he says. "Quite the opposite. I think that it's only when the airline industry gets back to strong, vibrant health that we may see a relaxation of those ownership and control rules."
Walsh believes the damage wrought by the pandemic is, to some extent, permanent.
"I don't see the industry ever going back to the way it was," he says, stating that even the airlines which survive through state aid will have balance sheets requiring "a lot of attention" in the years ahead. Fleets have been fundamentally adjusted and Walsh does not expect "significant" aircraft orders for some time.
"Building back is going to be a challenge. People will need to be very careful building back, because the real risk is you get into cash-negative flying as you try to build back up your schedules," he warns.
"Given that most airlines will be suffering with significant cash depletion over the past six months, building back up is going to be something that will require lot of management – more than anything we've seen before.
"In the traditional crisis, building back up capacity has been relatively easy. I think this time round there's probably a bigger risk than there's ever been before. So airlines will need to be careful. I think we'll see a more gradual response as people try and put capacity back in."
But Walsh also stresses that there is no slackening in the demand for flying, insisting that the real problem is the "extremely risk-averse" view taken by politicians and regulators, which is preventing passengers from booking.
He believes the crisis will take several years to abate, and that the industry will emerge smaller, and more consolidated, in five years' time.
"There will be fewer players," he says. "It's still going to be a very, very challenging, and brutally competitive, industry. Anybody who believes that consolidation means there'll be a lack of competition doesn't understand."