Croatia Airlines has disclosed that it has been discussing the cancellation of its Airbus A320neo order, the latest twist in a single-aisle situation dating back 12 years.
Its order for four of the re-engined jets was placed in September 2015 – four months before the type entered service – with the first pair due for delivery in 2021.
But the agreement was a conversion of a previous order for four conventional A319s which had languished on Airbus's backlog since the deal was originally agreed in October 2008.
At the time of the conversion to A320neos, Croatia Airlines attributed the dormancy of the A319 order to its previous management team which had "several times delayed" the deliveries.
The carrier had claimed the A320neos would be acquired at about the same price as the original A319s, under a deal which had taken the airline two years to negotiate as the carrier restructured its operations.
But the order faces further uncertainty. Croatia Airlines, in its half-year financial statement, says it had already begun negotiating the "termination" of the order in autumn last year – as part of a broader long-term strategy – long before the downturn resulting from the coronavirus crisis.
The crisis has interrupted the discussions but the carrier is keen to continue them "as soon as possible".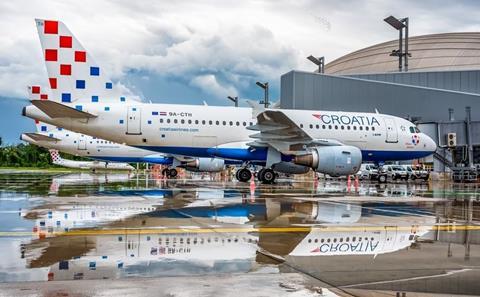 Croatia Airlines says it has made pre-delivery payments amounting to Kn63.4 million ($10 million) on the jets up to the end of 2019 and that this could be put towards other Airbus services.
At the end of June the carrier's fleet comprised 13 aircraft, among them five A319s and two A320s, plus six Bombardier Q400s. The Q400s and two of the Airbuses are under operating lease.
Nearly 80% of Croatia Airlines' planned flights were cancelled during the second quarter, and the airline has been adjusting its fleet requirements as a consequence.
"Given the circumstances and reduced demand, greater emphasis was placed on the use of the Q400 fleet, whose aircraft have smaller capacity than the Airbus fleet," it says.
Croatia Airlines has been gradually rebuilding its operation, carrying out some 37% of its planned flight schedule in the last week of June.
But it says there is still a "weak outlook for recovery" over the coming months despite the traffic increase. Maintaining liquidity is the "most significant" risk to the company's business, it adds, especially because the peak summer months are closing.
It has taken steps to reduce operational costs, renegotiating monthly lease payments and reducing personnel expenditure.
Croatia Airlines will benefit from a three-month hiatus on taxes and contributions to the government. It has negotiated a six-month moratorium on loan liabilities from two banks, and revised loan terms with a third, and rejigged emission trading obligations.