Croatia Airlines' passenger numbers over the first half of the year were still nearly 20% down on the pre-crisis level, but the carrier has claimed a net profit for the period.
The operator states that it transported 773,000 passengers over the six months to 30 June – up by nearly 40% on last year's interim – but this is still lower than the 2019 figure of 960,000.
Croatia Airlines says its first-half performance was nevertheless better than expected, with "strong growth" in demand, and has spurred it to raise frequencies and introduce new routes.
It turned in an operating profit of €2.6 million ($2.8 million) for the period and a net profit of €1.7 million, in contrast to last year's interim net loss of €22 million.
The airline says it benefited from stabilisation in fuel prices.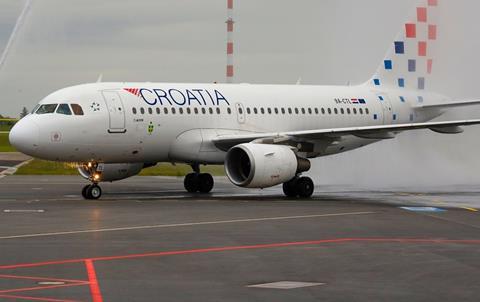 Croatia Airlines operated a fleet of 13 aircraft over the period, comprising seven Airbus A320-family jets and six De Havilland Dash 8-400s.
It has started recruiting pilots – a total of 11 so far – for the introduction of Airbus A220s, under a fleet-modernisation plan.
Croatia Airlines concluded long-term lease agreements with an Irish branch of US lessor Air Lease in January, covering the first six A220s – of which four are -300s and two are -100s. It is aiming to bring in 12 A220s and possibly increase this to 15 by 2027.