Turboprop manufacturer De Havilland Aircraft of Canada was entitled to terminate a Dash 8-400 purchase agreement with Indian carrier SpiceJet after the airline stopped making payments and taking delivery of aircraft, a judge has ruled.
SpiceJet originally ordered 25 of the type from Bombardier – part of a September 2017 agreement for up to 50, the largest single deal for the aircraft type – before the airframer sold the programme to Longview Aviation Capital, which placed it under the De Havilland brand.
De Havilland has pursued a $42.95 million claim against SpiceJet after the airline took, and paid for, the first five aircraft but failed to take delivery of the next three or make pre-delivery payments on either these or 12 subsequent ones.
The airframer served notice terminating the deliveries of all outstanding aircraft and cancelling the purchase agreement.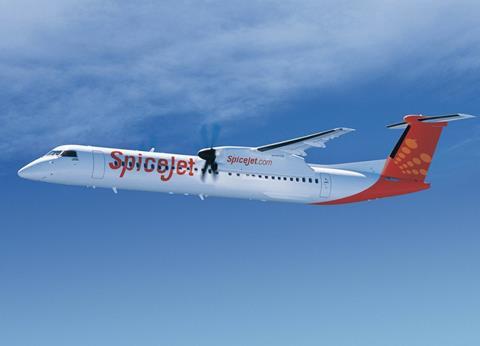 SpiceJet had argued that its obligations to make pre-delivery payments on specific aircraft were suspended by agreement between the two sides, under an April 2019 change order.
But De Havilland countered that the change order did not suspend this obligation. It said that only the scheduled delivery months were suspended. SpiceJet claimed the suspension of scheduled delivery months automatically suspended payment liability because the two were linked.
In a 23 February ruling from the High Court in London, the judge says he is "persuaded" by De Havilland's argument.
"I am satisfied that, although there was an agreement for variation of the [scheduled delivery months], there was no agreement to excuse payment of the invoices in respect of those [pre-delivery payments] which had already accrued due," he says.
SpiceJet had also tried to defend its failure to take delivery of its sixth, seventh and eighth aircraft by claiming that De Havilland had breached an obligation to provide assistance in arranging finance.
But the judge rejects SpiceJet's claim that such assistance amounted to working with the airline and its financiers to procure finance, and that any assistance – given that De Havilland had no responsibility to incur expense itself – would have been "very limited".
De Havilland was "entitled" to terminate deliveries of the sixth, seventh and eighth aircraft, says the ruling, and similarly entitled to terminate all remaining aircraft encompassed by the order.