Eastern Russian carrier Aurora has signed a provisional agreement to acquire 10 Yakovlev MC-21s.
Aurora will take delivery of the twinjets over the course of 2027-30, according to Russian state technology firm Rostec.
The agreement was signed during an eastern economic forum in Vladivostok.
Rostec says the agreement establishes the "basic terms of the transaction", which will be formalised in subsequent leasing agreements.
The first two MC-21s will be delivered to Aurora by the end of 2027.
Aurora says the twinjets will be configured with 175 seats in two classes, with 16 in the business-class cabin and 159 in economy.
The airline, which has bases in Vladivostok, Khabarovsk and Yuzhno-Sakhalinsk, operates a fleet of 19 aircraft – all Western-built types, comprising Airbus A319s, De Havilland Dash 8s and Twin Otters.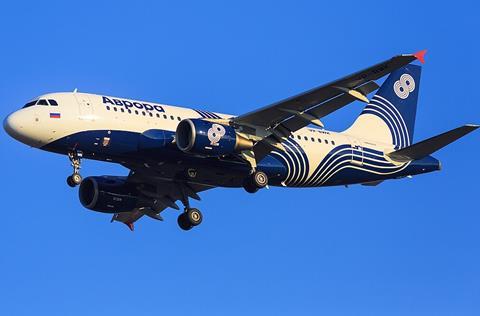 "We need an aircraft that will allow us to maintain a high level of service for passengers on routes connecting the largest cities of [far eastern Russia] with one another and, through them, our entire network with the largest airports in Siberia," says general director Konstantin Sukhorebrik.
Yakovlev chief Andrei Boginsky says he is confident that Aurora's MC-21s will support the broad government objective to ensure transport accessibility in the region.
Aurora was formerly part of Aeroflot Group but was divested in late 2020. It has been building a unified airline operation in eastern Russia and previously indicated plans to take Yakovlev SJ-100s and Ilyushin Il-114-300s.