Israeli flag-carrier El Al is to commence its codeshare pact with the United Arab Emirates' Etihad Airways on 18 July.
The two airlines are implementing the co-operation following the historic agreement reached last year centred on the establishment of diplomatic ties between Israel and several Arab states.
As El Al sought to open new routes to Arab destinations, Etihad Airways quickly entered discussions with the carrier over a codeshare arrangement.
Etihad says its flights between Abu Dhabi and Tel Aviv will carry the 'LY' designator code of El Al.
It aims to extend this initial trunk route codeshare from Abu Dhabi to destinations in Australia, Bahrain, India, South Korea, the Philippines and Seychelles from 1 August.
The two airlines will have a reciprocal agreement for loyalty programmes.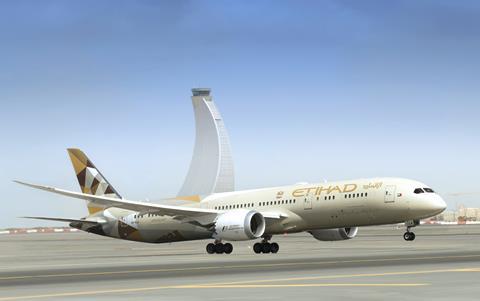 Under a subsequent phase of the codeshare El Al flights to another 14 destinations will carry the 'EY' code of Etihad. These services will involve cities in Europe, the USA, Asia and the Middle East.
"This partnership will provide additional choice and connectivity for both carriers' guests, and a range of benefits for frequent travellers," says Etihad Aviation Group chief Tony Douglas.
His counterpart at El Al, new chief executive Avigal Soreq, says the tie-up is the Israeli airline's first commercial partnership since the political agreement reached last year.
"The El Al and Etihad teams have a common goal in this partnership, and we look forward to seeing it grow in the future," he adds.
El Al and Etihad also intended to explore further co-operation opportunities in such areas as pilot and crew training, maintenance, and cargo.