Israeli flag-carrier El Al has been granted a deferral to the end of November for delivery of its final Boeing 787, after the air transport crisis interrupted its fleet renewal schedule.
It has signed agreements for a $122 million financing of the 787-8 in February – based on a JOLCO lease structure – and expected to receive the aircraft in March.
But the delivery has been postponed by the pandemic and the loan agreement expired in May.
Boeing has granted the delivery deferral, says the carrier. It adds that it has received an extension from the bank and is "considering alternatives" to long-term financing for the aircraft.
El Al's 787 fleet will reach 16 aircraft once it receives the final Rolls-Royce Trent-powered twinjet.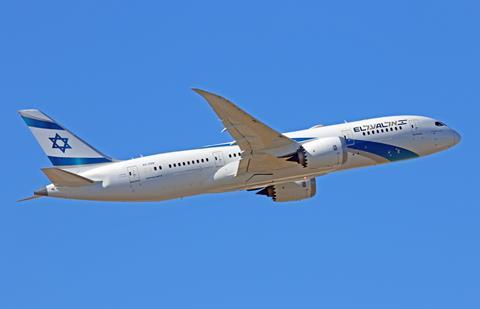 The airline has outlined three scenarios it has been using to forecast a ramp-up of operations and examine any possible impairment of its fleet.
El Al says it is 70% certain that the recovery will result in its restarting operations in October, with around 10% activity, increasing to 40% in January next year.
This baseline scenario predicts that it will reach 75% flight activity by August 2021 and 90% by the end of 2022.
Full operations would return in 2024 under this forecast, the airline states.
El Al's most optimistic outlook tracks a similar course but suggests a faster upturn in the later stages, post-August 2021, reaching the 90% level earlier in 2022 and full activity in 2023.
But it is also considering a more pessimistic scenario, in which the restart of operations is delayed until December this year, achieving the 90% level only by the end of 2023, with full activity not resuming until 2025. The carrier has assigned equal probability to both the optimistic and pessimistic predictions.