Israeli flag-carrier El Al has obtained an agreement to extend the period for taking delivery of its final Boeing 787, pushing the date back to the end of March next year.
The airline has 15 787s in its fleet and had already been granted a delivery deferral for the last aircraft, a 787-8, to the end of November.
But the carrier has disclosed, in its third-quarter briefing, that this period has been extended to 31 March 2021 – a year after the intended delivery date.
El Al has also sought an extension to repay loans used to finance advanced payments for the twinjet.
The aircraft, like the other 787s in El Al's fleet, will be fitted with Rolls-Royce Trent 1000 engines.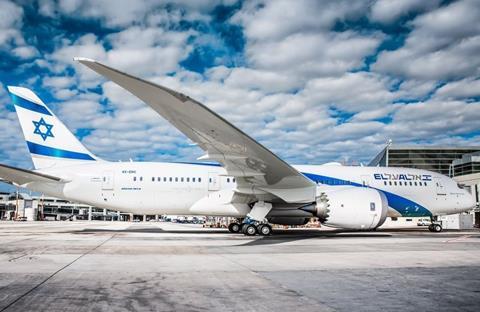 Rolls-Royce has been undertaking work on the airline's 787s to replace components relating to the blade-durability problem that has affected the Trent 1000.
El Al says it expects the work on this programme to continue until the end of 2022. The airline says that it has been negotiating with Rolls-Royce regarding maintenance agreements in light of the impact of the air transport crisis.
After a particularly weak third quarter, normally the summer peak for El Al, the airline's losses have increased to more than $400 million over the first nine months of the year.
As the IATA forecasts have deteriorated, El Al's projected date for a restoration of full operations has shifted. At the end of the first quarter it had been working on a baseline assumption of recovering to full activity during 2023 – or even 2022 under its most optimistic scenario.
But this full-recovery point slipped in the baseline case to 2024 by the end of the second quarter.
El Al says that, as part of its measures to adjust to the weaker demand, it has signed an agreement with a lessor of four of its 787-9s to pay, temporarily, a monthly lease fee based on the actual flight hours – tying the lease fee to the utilisation of the aircraft.