El Al's planned inaugural flight to the United Arab Emirates is being flightplanned to transit Saudi Arabian airspace, a route which would normally be off-limits to Israeli aircraft.
The intended flightpath for the Tel Aviv-Abu Dhabi flight on 31 August would cross Jordanian airspace and then enter Saudi airspace at the KIPAS waypoint, on the border of the Amman and Jeddah flight information regions.
It would head south-east – along airways N318 and UT503 – towards Riyadh, passing close to the Saudi capital's King Khalid international airport before turning east along M628 and exiting the Jeddah FIR at the PEKEM waypoint on the UAE airspace border.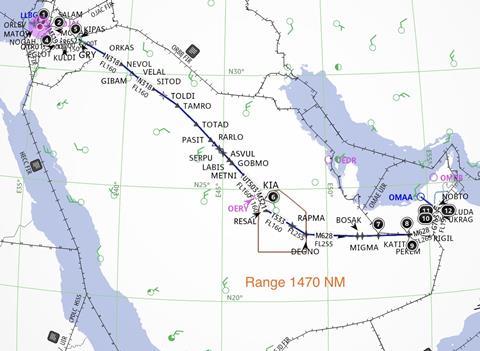 According to Israeli airline pilot association Isralpa, the flightplan for the El Al service has yet to be approved by Saudi authorities.
Isralpa states that the 1,470nm route is being planned on the assumption that a Boeing 737 will be used, accommodating around 100 passengers. El Al uses the 737-800 and -900ER, and the airline has shown off a -900ER (4X-EHD) with a 'peace' inscription on its forward fuselage.
But the association says that, if the flightplan is not cleared by the Saudi authorities, the 737 might need to be swapped for a long-haul type and operated along a route more than twice as long – to avoid both Saudi and Yemeni airspace – flying some 3,450nm along the Red Sea, the Arabian Sea, and over Oman.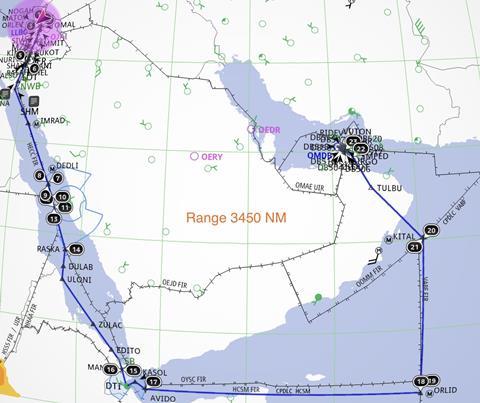 Alternatively, says Isralpa, a non-Israeli registered aircraft could be used for a Saudi transit.
El Al is set to conduct a return flight from Abu Dhabi to Tel Aviv on 1 September. The one-off service will mark the normalisation of relations between Israel and the UAE, an agreement unveiled on 13 August.