El Al shareholder Knafaim Holdings has reached a preliminary agreement to acquire a 49.9% stake in the Cypriot carrier Tus Airways.
Knafaim says it has signed a letter of intent covering the acquisition with US entrepreneur Kenneth Woolley, the sole shareholder of the carrier.
Under the agreement Knafaim, through its Global Knafaim Leasing subsidiary, will invest $5 million while Woolley will invest $4 million.
New shares will be issued and allotted such that Woolley will hold 50.1% of the operator with Global Knafaim Leasing holding the balance.
The lessor also indicates that the agreement is also linked to possible lease of Airbus A330s.
It says that, in addition to a "concrete business opportunity" seen in Tus Airways' airline operations, the agreement will provide an increase in "operational flexibility" including a potential platform for its non-leased aircraft.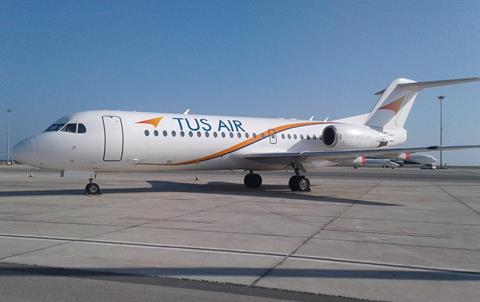 Tus Airways commenced operations in 2016 and its small fleet comprises Airbus A320s and Fokker regional jets.
Knafaim says the customary approvals for the acquisition are still required and, in any case, there is "no certainty" that the transaction will be finalised.
As a condition of the deal Tus will have no external debt except for normal business liabilities at the time the agreement is completed, around the end of July.
Knafaim remains a shareholder in El Al, the Israeli flag-carrier, with a stake of about 10.5%. It had previously been a bidder in the competition to acquire Israeli leisure airline Israir.