Israeli flag-carrier El Al has revealed the extent of the pandemic's financial damage on the airline, turning in a full-year net loss of $531 million.
El Al's pre-tax loss reached $561 million.
The airline's revenues reached just $623 million for the year to 31 December 2020, a fall of 71%, its latest financial statement shows.
This included an 84% drop in revenues from passenger flights.
The carrier says its scheduled passenger operations started to suffer in February 2020 and the trend "significantly worsened" in March, when two-thirds of passenger traffic was lost, preceding an "almost complete cessation" in the second and third quarters.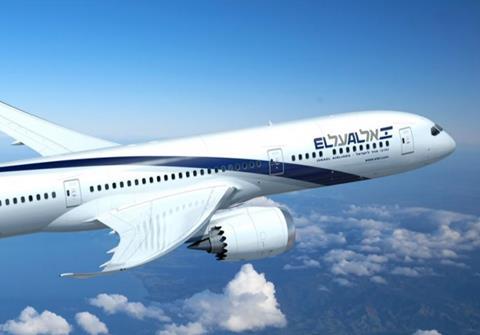 El Al says its cargo revenues increased substantially during the year, by around $132 million, despite a relatively small rise in freight traffic, owing to the constraints on freight capacity and a consequent "significant increase" in yield.
The airline slashed total operating expenditure by over $1 billion, to a total of about $800 million. It says the fleet's dormancy meant fuel costs were down $348 million and its furlough of personnel cut related expenditure by $296 million.
El Al's fourth quarter showed evidence of a "slight recovery", the airline says, with resumption of services to a "limited number" of destinations – but capacity nevertheless remained 87% down.
Operating revenues for the final three months were down 78% to $111 million, and its net loss reached $140 million.