Israeli carrier El Al made a pre-tax loss of $90 million for the first half of the year, although a tax gain pushed the airline into a net profit of $34 million.
The airline generated revenues of nearly $799 million over the six months to 30 June.
El Al says the gradual post-pandemic re-opening of travel access which began in the first quarter continued in the second, and resulted in a strengthening of the airline's business.
For the second quarter the airline posted a $9 million and $64 million profit for EBIT and EBITDAR respectively, both a substantial rise on the first-quarter figures.
Although demand in Israel has increased significantly – even returning to pre-crisis level in certain respects – the airline says it has not yet returned to its full scope of activity.
It says this lag in restoring production capacity relates to such matters as employee training and aircraft serviceability.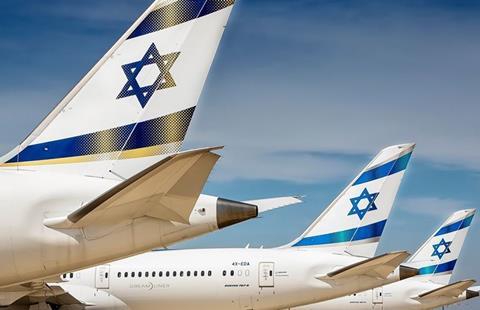 El Al says its activity level for the second quarter ran at about 73% compared with the same pre-crisis period of 2019, when it operated around 43 aircraft compared with the current 36.
As a result of this lag, it says, the company experienced an "excess of demand over supply". The airline adds that, alongside these "challenges", it is also facing increasing expenditure from inflation – particularly in the cost of jet fuel.
But El Al is optimistic that a recent salary agreement with its pilots – ending a period of disruption to its services – and the possibility of opening new routes as a result of access to Saudi Arabian airspace.
It says this network access is still subject to approval from the Omani government but, once cleared, the airline will be able to consider destination including cities in Australia.