Israeli flag-carrier El Al could potentially join the SkyTeam alliance with Delta Air Lines' support, following a strategic co-operation agreement sealed between the two airlines.
El Al and Delta will implement reciprocal codeshares and loyalty benefits as part of the tie-up, which is intended to offer more convenient connections between the USA and Israel.
Delta operates to Tel Aviv through the US gateways of Atlanta, New York JFK and Boston. El Al operates to Boston and JFK, as well as Los Angeles, Miami and Newark.
The codeshare will also cover a number of onward routes.
El Al adds that, within the framework of the agreement, Delta would made "reasonable efforts to assist" the Israeli carrier in joining SkyTeam – if El Al should show interest in such membership.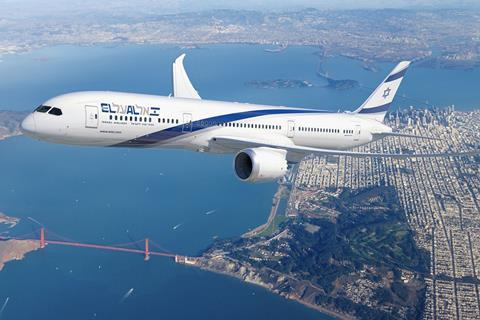 The co-operation agreement will run for at least five years.
El Al says the pact establishes a number of conditions including a limitation on the airline's entering any similar arrangement with other US-based carriers.
The Israeli operator says it will be able to increase capacity to US destinations, expand its route network, and appeal to a broader range of customers.
"This partnership marks another important milestone in our long-term strategy and offers our customers unparalleled service," says El Al vice-president for commercial and industry affairs Shlomi Zafrany.
Delta's senior vice-president for Europe, Middle East, Africa and India, Matteo Curcio, adds that the tie-up will "further strengthen" the US operator's link to Israel.
"Enhanced partnerships are integral to our long-term strategy to better connect Delta customers around the world," he adds.