Emirates president Tim Clark is optimistic that the Boeing 777-9 service entry is on track, expecting the type inspection authorisation – which begins formal certification tests – around February next year.
Speaking during the Dubai air show on 14 November, a day after Emirates committed to another 90 777Xs, Clark said he was "more confident" on the timeline for the twinjet – although he points out that it remains over five years late – with Emirates expecting to take its first in October 2025.
He says he thinks Boeing and the US FAA are "getting on top" of the regulatory requirements in relation to the aircraft's capabilities.
"So I'm hoping it'll be OK for us," he adds, but acknowledges that – given the 777-9 is a new airframe, with a new engine in the General Electric GE9X – "we're not out of the woods at all with regards entry into service".
"Irrespective of the difficulty of getting these aircraft out the door, we have to place orders now because the lead time for deliveries is so long," he adds. "We have to face bumps in the road as to what manufacturers can do."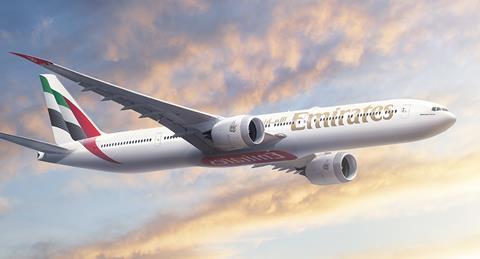 The order for 777Xs includes 55 777-9s and 35 777-8s – the -8s are due for delivery from 2030.
"I'm reassured by head of GE that the [GE9X] will be good to go, and meet all contract specifications," says Clark. "On the basis of that, there's a large amount of trust, and we've placed those orders."
Clark is refusing to provide any details of the 777X interior configuration until the aircraft are closer to introduction.
"I'm saying nothing about it, because everybody will be listening out there," he says. "And somehow they'll manage to get in there before me, before we get delivered."