Middle Eastern carrier Emirates is to fit its upcoming fleet of 50 Airbus A350s with a Thales in-flight entertainment system.
The Dubai-based airline says it has chosen the Thales Avant Up system for the twinjets, deliveries of which are set to commence in 2024.
Emirates says the system features 4K displays for its 'ICE' entertainment product – which features over 5,000 channels of content – and will include an "enhanced" solution offering a broader choice of live television and news.
The airline says it has selected a variety of digital services for the system including "highly-integrated personalised features" and expanded capabilities including fast charging and pairing of multiple personal electronic devices.
It says it aims to "enrich" engagement, adding that the interface will enable visually-impaired passengers to have an "immersive experience".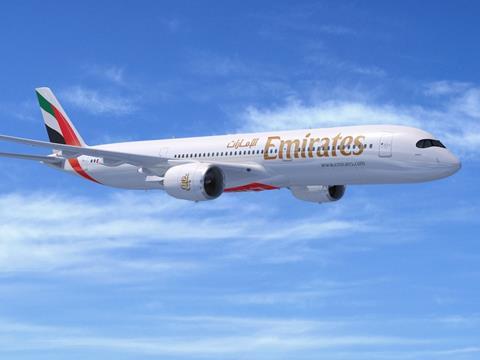 Emirates will also use Thales' power-management technology, 'Pulse', which ensures charging performance is unaffected by the number of simultaneous users.
"Our investment in next-generation Thales systems for our new A350 fleet will further our lead, enabling us to deliver even better experiences to our customers," says Emirates chief operating officer Adel al Redha.
The carrier is investing over $350 million in the programme.
Thales Avionics executive vice-president Yannick Assouad claims the airline's customers can "expect the extraordinary" from the new system.