Emirates Group has disclosed a series of agreements with Safran's interiors division covering seats and other fittings on new aircraft types in the Dubai-based carrier's fleet.
The airline values at $1 billion – at catalogue prices – the deal for seats on the Airbus A350-900s and Boeing 777-9s which it plans to introduce over the next two years.
Emirates says the agreement spans business, premium-economy and economy seats on the two new models.
"The new seats will offer a host of enhancements that set a new standard for comfort, privacy and convenience, including generous space and a bolder roster of luxurious features, stylish interior finishes and next level-technology in every cabin class," it claims.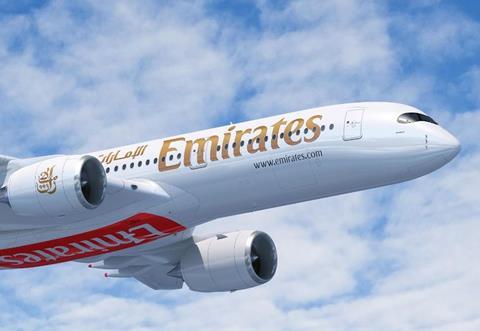 Emirates president Tim Clark says the deal "cements" the partnership between the carrier and Safran.
"We're working closely to re-imagine and elevate our future cabins with smart design and the latest technologies," he adds. "These have been decisive factors in our selection of seat types which will be customised for Emirates."
Emirates is taking A350s from next year and is due to introduce 777-9s from 2025.
The seats are part of a broader $1.2 billion pact with Safran, which will feature galley shipsets and passenger satcom connectivity.
Emirates is also contracting Safran for A350 wheels and brakes, and the French aerospace firm is providing retrofit support – including new seats on 777-300ERs and Airbus A380s – plus maintenance for A380 landing-gear and 777 cabin components.