Middle Eastern carrier Emirates has reached an agreement with energy firm Shell Aviation covering the supply of blended sustainable aviation fuel at its Dubai hub.
Emirates says the agreement centres on the supply of 300,000gal of fuel, with initial deliveries set to take place by the end of this year.
The airline says it will track delivery and use of the fuel through a digital platform, Avelia, which uses blockchain technology to provide a book-and-claim solution.
Emirates says the deal marks the first time sustainable fuel will be supplied through the Dubai airport system.
The airline first carried out a sustainable-blend flight in 2017, with a Boeing 777 out of Chicago, and it uses blended sustainable fuel on services from Paris, Lyon and Oslo.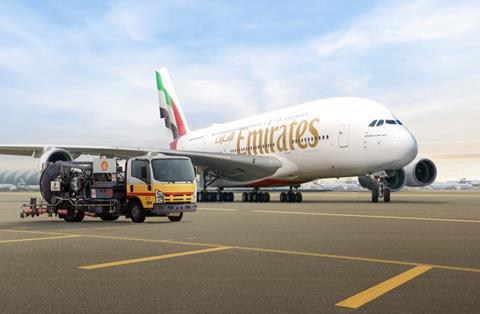 "We hope that this collaboration develops further to provide an ongoing future supply of [sustainable fuel] in our hub, as there are currently no production facilities for [such fuel] in the United Arab Emirates," says Emirates president Tim Clark.
Emirates will purchase the physical fuel while Shell Corporate Travel will purchase associated environmental attributes linked to the fuel, to help decarbonise business travel.
The Avelia platform will enable airlines and corporates to "both share the environmental benefits" of the fuel, says the carrier.
Shell Corporate Travel vice-president Chu Yong-Yi says the Dubai agreement is an "important milestone" and shows how different parts of the aviation chain have roles in "unlocking progress" with sustainable fuel.