Middle Eastern carrier Emirates is set to be fined by the US Department of Transportation for operating services through Iranian airspace while carrying a codeshare with US budget operator JetBlue Airways.
US investigations have determined that, during the first three weeks of July last year, Emirates operated services with the JetBlue codeshare in airspace prohibited to US carriers under a NOTAM previously issued on 21 June.
The NOTAM from the US FAA banned US carriers from flying in overwater areas of the Tehran flight information region, owing to heightened military activity.
It pointed out that, two days before the NOTAM was issued, a Northrop Grumman RQ-4 Global Hawk unmanned aerial vehicle had been shot down by a surface-to-air missile above the Gulf of Oman.
The regional tensions posed a risk to US civil aircraft from misidentification or miscalculation, said the FAA.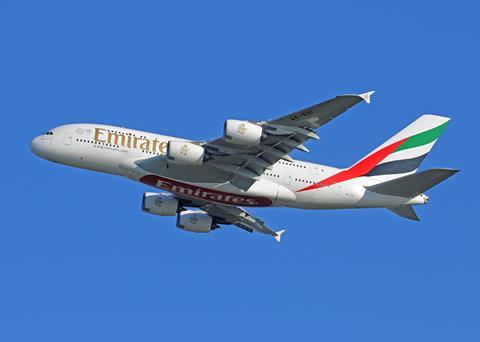 Emirates had operated "in violation" of its authorisation conditions for the JetBlue codeshare, says the Department of Transportation, which has proposed a penalty of $400,000 and issued a "cease and desist" order to the airline.
According to the department, the airline defended itself by insisting the situation arose from an error, pointing out that it had suspended, at "significant cost", all flights in Iranian airspace – other than its service to Tehran – after the FAA issued the NOTAM.
But when it restored services to US destinations through Iranian airspace, an "internal oversight" meant it "inadvertently retained" the JetBlue code on the flights.
Once Emirates became aware of the error, the department says, it took immediate action to remove the code and halt transportation of passengers under this codeshare on the affected flights, and reviewed its policies to determine the cause.
"Emirates states that it takes its regulatory compliance responsibilities extremely seriously, is proud of its compliance record as a foreign carrier with a significant amount of service to the USA, and devotes substantial resources and management and staff focus to regulatory compliance," adds the department.
Although Emirates believes the penalty is not justified, it has agreed to accept the fine in order to settle the matter and avoid litigation. The sum equates to just over eight minutes' worth of Emirates' revenues for 2019.