Surging demand for essential freight capacity meant Emirates' cargo revenues rose by more than 50% over the last financial year.
Emirates' SkyCargo division turned in revenues of Dhs17.1 billion ($4.7 billion) for 2020-21 compared with the previous figure of Dhs11.2 billion.
This was despite a fall of around 20% in overall freight traffic and cargo tonnage carried.
Emirates highlights the shift in aircraft operations for freight transport during the pandemic.
While passenger aircraft were used to carry 77% of freight in 2019-20, this figure diminished to 38% last year as the passenger fleet was restricted.
SkyCargo has 11 dedicated Boeing 777 freighters but Emirates supplemented these by converting 19 777-300ERs into "mini-freighters" by reconfiguring the passenger cabins to use seats and overhead luggage bins for cargo.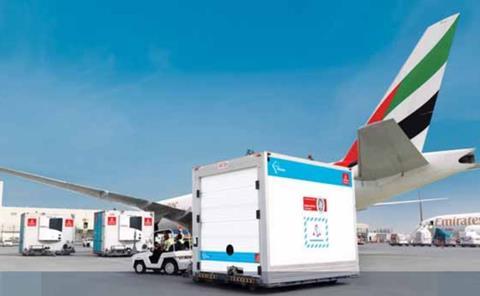 Emirates says that, overall, one-third of its passenger aircraft were used for cargo operations during the year.
It consolidated the cargo operation at its Dubai International base and temporarily ceased serving the secondary Al Maktoum airport. Emirates says this enabled it to "optimise logistics".
The airline says it was able to respond to the demand for transport of vaccines and essential medical supplies in relation to the pandemic, while also supporting relief airlift to Beirut after the port explosion in August 2020.
Emirates says it reached over 120 cargo points during the year with its combination of freighters, belly freight, and converted passenger aircraft, increasing its presence in Latin America and Russia with new destinations such as Bogota, Guadalajara and Moscow Sheremetyevo.