Middle Eastern carrier Emirates has taken delivery of another Airbus A380, the first of three to be introduced by the Dubai-based airline before the end of this year.
One of the three aircraft to be delivered will have a configuration which includes Emirates' premium-economy seating.
The latest aircraft (A6-EVL) departed Airbus's Hamburg Finkenwerder facility on 4 December and arrived in Dubai early the following day.
It is only the second A380 to be handed over this year, following the delivery of an aircraft to Japanese carrier All Nippon Airways on 30 October.
Introduction of A6-EVL to Emirates brings the total number of A380s at the Middle Eastern operator to 116.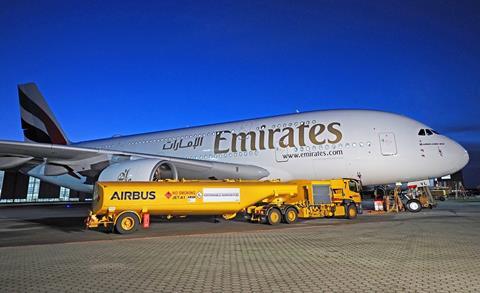 Emirates has ordered a total of 123 A380s, and says two of the outstanding seven aircraft will arrive this month. It insists the type "remains highly sought-after by customers".
President of Emirates Airline Tim Clark says the A380 has enabled the carrier to serve slot-constrained airports.
"With the space and technology on this aircraft, we've been able to introduce new concepts on board that have transformed the flying experience for the better," he adds.
"We look forward to introducing our premium economy experience on which will make its debut on an A380 in the coming months."
Emirates used a biofuel blend – based on used cooking oil – for the delivery flight, the first time the carrier has used sustainable aviation fuel to power an A380.
"We are watching developments in sustainable aviation fuel very closely," says Clark. "We look forward to a time when it can be produced at scale, and in a cost competitive manner."