Middle Eastern carrier Emirates has turned in a first-half loss of Dhs5.8 billion ($1.6 billion), halving the deficit from the previous interim, but still contrasting sharply with the pre-crisis half-year profit of Dhs862 million.
The Dubai-based airline's revenues in the six months to 30 September 2021 reached Dhs21.7 billion. EBITDA over the half year increased to Dhs5 billion.
Parent company Emirates Group says the strong revenue recovery "reflects quick return of passenger demand" when travel limitations eased.
Emirates had deployed 37 of its A380s, about 30% of its total, as well as its entire Boeing 777-300ER fleet, on its network by the end of September.
Over the first half it received two more new A380s, and retired two older aircraft from its fleet.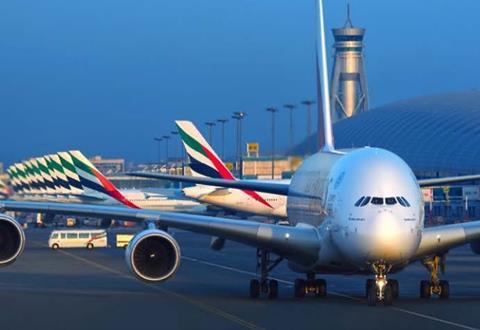 "With a clear focus on restoring its passenger network and connections through its Dubai hub, Emirates responded with agility whenever travel restrictions lifted to restart services or layer on additional flights," the group states.
Emirates transported 6.1 million passengers over the first half and its average passenger load factor reached just under 48%.
With the surge in cargo demand the group's freight division recorded volumes of around 90% of pre-crisis levels.
Fuel accounted for 20% of operating costs in the first half, up from 11% in the previous interim period, as fuel expenditure more than doubled. Operating costs rose by 22% as the carrier hiked capacity by 66%.
Emirates Group as a whole generated revenues of Dhs24.7 billion and posted a loss of Dhs5.7 billion for the six months. The company's ground-handling division, Dnata, was profitable for the period, recovering from a Dhs1.5 billion loss to turn in an Dhs85 million surplus.
Its cash position at the end of September was Dhs18.8 billion.
"Our cargo transport and handling businesses continued to perform strongly, providing the bedrock upon which we were able to quickly reinstate passenger services," says Emirates Group chairman Sheikh Ahmed bin Saeed Al Maktoum.
"While there's still some way to go before we restore our operations to pre-pandemic levels and return to profitability, we are well on the recovery path with healthy revenue and a solid cash balance."