Middle Eastern carrier Emirates is wet-leasing a pair of Boeing 747-400 freighters to lift capacity for its SkyCargo division.
Their introduction – a return to 747 operations after an absence of several years – illustrates the Dubai-based operator's "confidence" in the cargo market, it states, and provide "immediate" increased capability while it awaits additional freighters.
It is deploying the 747s on routes to Chicago and Hong Kong.
Emirates has plans to expand its SkyCargo fleet, through the acquisition of five more Boeing 777Fs over the course of 2024-25. The airline already has 11 777 freighters.
It is also taking 10 777-300ERs which will be converted to freighters over the next five years.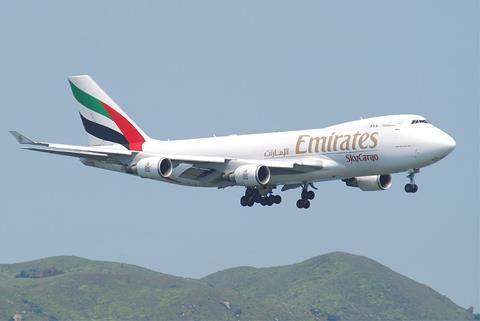 The capacity provided by these 15 freighters will be supplemented by the hold capacity offered as Emirates brings in Airbus A350s from next year and Boeing 777Xs from 2025.
But the airline expects demand will require further fleet expansion.
"We believe even these additional aircraft will not be sufficient," says SkyCargo divisional senior vice-president Nabil Sultan.
He says the airline, by this point, will be in a position to "quickly and efficiently scale-up" its freighter-conversion programme if necessary.
"While the current market volatility may cause others to hesitate, Emirates SkyCargo is pushing full steam ahead with its plans," says Sultan, highlighting the upward trend forecast for global air cargo in the medium to long term.