Middle Eastern carrier Emirates has returned to service the first Airbus A380 to undergo an extensive interior retrofit, which will be applied to 67 of the type.
The initial airframe (A6-EVM) has been re-introduced to the route from Dubai to London Heathrow.
Emirates says the aircraft has been "completely refurbished" and reconfigured to provide additional premium-economy capacity – a total of 56 seats on the main deck.
"Customers will notice the difference the moment they step on board," says Emirates president Tim Clark, stating that the aircraft will feature new colour schemes in the walls and carpeting.
"With our latest interiors and products, this newly-refurbished aircraft elevates our in-flight experience in all classes of travel."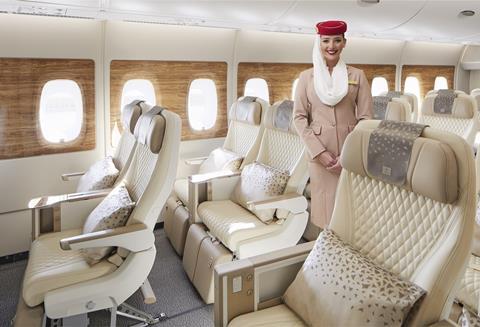 The next A380 being updated is A6-EUW, work on which will be completed by the end of January.
"Teams of engineers and technicians have worked round the clock, taking apart the entire interior of the A380 and refitting the parts again in a carefully planned and tested sequence," says the carrier.
Emirates adds that the programme will move to modifying two aircraft simultaneously as it progresses.
Once all the A380s scheduled for the upgrade have been returned to service, by 2024, the airline will move to carry out similar work on 53 Boeing 777-300ERs – with the aim of finishing the overall 120-jet refit in 2025.