Middle Eastern carrier Emirates has unveiled an agreement for 90 additional Boeing 777X twinjets, and a revised 787 deal, while its partner airline Flydubai is branching into widebody operations with 30 787-9s.
Emirates values its part of the order – disclosed on the first day of the Dubai air show – at $52 billion.
It comprises 55 additional 777-9s, which will be delivered from 2025, plus 35 of the smaller 777-8 which will start arriving in 2030.
Prior to the deal the airline had 115 777Xs on order, part of a 200-widebody backlog which also included 30 787-9s, five 777 freighters, and 50 Airbus A350-900s.
Emirates Group chief Sheikh Ahmed bin Saeed Al Maktoum, speaking at the event, said the carrier would be "one of the launch customers" for the 777-8.
He adds that Emirates is "updating" its previous 787 order.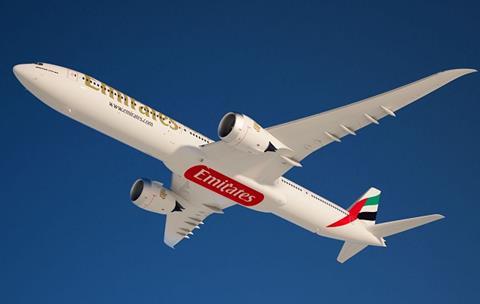 The Dubai-based operator had committed to 40 787-10s a few years ago, before rejigging the deal to take 30 787-9s instead.
But Al Maktoum says the airline will have 35 787s, comprising 15 787-10s – revisiting its earlier intention to take the largest variant – and 20 787-8s, opting for the smallest model.
He says Emirates, as a result, will have 295 widebody aircraft on order, including 205 777Xs. To power the 777Xs, the carrier is signing for 202 additional General Electric GE9X engines.
Al Maktoum says the 777 is "the centre of Emirates' strategy to connect cities on all continents" from Dubai.
Boeing Commercial Airplanes chief Stan Deal says the agreement extends the 777X programme and adds that the 787 is an "important element" of the overall package.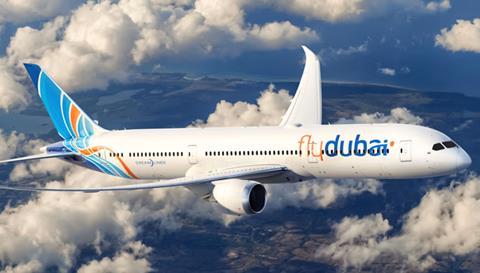 Emirates has a close partnership with Flydubai – including an extensive codeshare and co-operation pact – and this was illustrated by the decision by the two carriers to hold a joint event.
Flydubai's agreement to take 30 787-9s is a step up from its previous exclusive use of 737s – both the -800 and the Max versions.
The carrier emerged in 2008 and agreed to take 50 737s before commencing operations, and has since expanded to over 80 aircraft serving more than 120 destinations.
Al Maktoum, who chairs the airline, states that its products have been enhanced to mirror the changing needs of travellers across the region.
He says the decision to take the widebodies is "special, and signals a new chapter for the airline, building on the success of its business model".
Al Maktoum states that the agreement will diversify the fleet and "signifies a maturing" of the carrier, giving it additional capacity on its network.
"It's always been the Flydubai strategy to invest in the most advanced and efficient aircraft," he adds. "This order reflects just that."