Middle Eastern carrier Emirates is committing to additional Airbus A350-900, with an order for 15 more of the twinjets during the Dubai air show.
Emirates already has 50 of the -900 on order and the new agreement takes the total to 65.
A350-900s are powered by Rolls-Royce Trent XWB-84 engines.
Emirates president Tim Clark had signalled during the show that he was satisfied with the capabilities of the -900, which the carrier will start introducing in August next year.
The airline indicates it will deploy the type on routes up to 15h duration.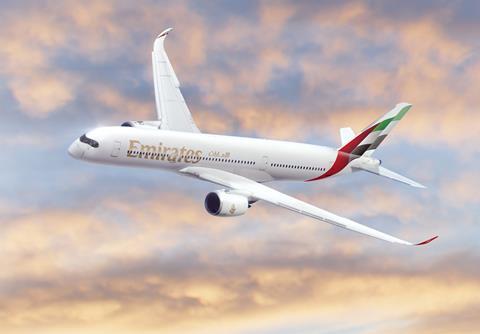 "We will work closely with Airbus and Rolls-Royce to ensure our aircraft deliver the best possible operating efficiency and flying experience for our customers," says Emirates chief executive Sheikh Ahmed bin Saeed Al Maktoum.
The agreement will provide a degree of consolation to Airbus and Rolls-Royce, after Emirates unveiled a large deal with Boeing and General Electric to take 55 more 777-9s and 35 777-8s during the show – and particularly following remarks by Clark that he was not ready to commit to the A350-1000.
Emirates values the A350-900 agreement at $6 billion, at catalogue prices. Deliveries will run to early 2028 as a result of the expanded deal.
Al Maktoum says the orders placed during the show are "all carefully planned to support our future growth" as part of the "economic vision" for Dubai.