Middle Eastern carrier Emirates is to offer Inmarsat's GX Aviation high-speed broadband connectivity on its Airbus A350 fleet, which it expects to enter service next year.
Emirates says the A350s will be the first aircraft in its fleet to use the GX satellite network.
The Dubai-based carrier has 50 A350s on order, all currently listed as the -900 variant.
Emirates revealed last year that it had selected the Thales Avant Up in-flight entertainment system for installation in the twinjets.
The system includes 4K displays to support its entertainment product 'ICE'.
Emirates says the GX Aviation broadband service will offer "enhanced" connectivity and greater coverage on its flights, including Middle East-North America services passing near the Arctic region.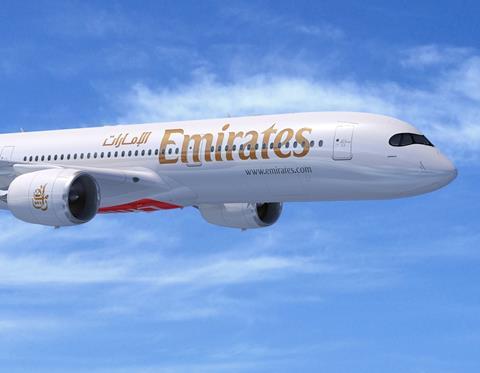 "We understand the importance of being connected during flights," says Emirates chief operating officer Adel al Redha. "The advanced capabilities being introduced by the forthcoming satellites are particularly important, as this will boost capacity across our global network."
Emirates says the GX network currently includes five Ka-band satellites with seven additional satellite payloads planned. Two Inmarsat-6 satellites are set to enter service this year, followed by three geostationary and two high-elliptical orbit satellites for high-latitude coverage.