Middle Eastern carrier Emirates is to purchase a pair of Airbus A380s owned by a Guernsey-based investment vehicle.
Emirates is acquiring the two jets – MSN77 and MSN90 – which it leases from the vehicle, Doric Nimrod Air Two.
The entity purchased the aircraft respectively in October and December 2011.
Emirates agreed to lease the A380s – both fitted with Engine Alliance GP7200 powerplants – for a 12-year period.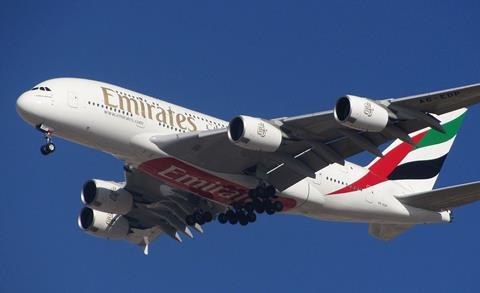 The leases will each expire before the end of this year, and Doric Nimrod Air Two says it will sell the aircraft to Dubai-based Emirates for $35 million each.
Emirates took delivery of 123 A380s and still has 120 in operation, according to Airbus's latest figures.
Doric Nimrod Air Two is aiming to distribute capital to shareholders early in 2024, once the transaction is complete.
It still owns five other A380s whose lease periods expire over the course of October-November next year.