Emirates has unveiled a striking full-fuselage scheme on one of its Airbus A380s, intended to promote the Expo 2020 event in Dubai.
While Emirates has previously featured promotional designs on its aircraft, including a series of Expo 2020 liveries on A380s and Boeing 777s two years ago, it has normally retained the anchor characteristics of the airline's corporate colours.
But the A380 (A6-EEU) has been painted with a bold blue fuselage and fin, with multiple large coloured patches along the aircraft, Dubai Expo titles, and the dates of the event on the Engine Alliance GP7200 powerplants.
The 'Emirates' logo normally visible on the fuselage underside when the aircraft flies overhead has also been replaced by orange Expo branding.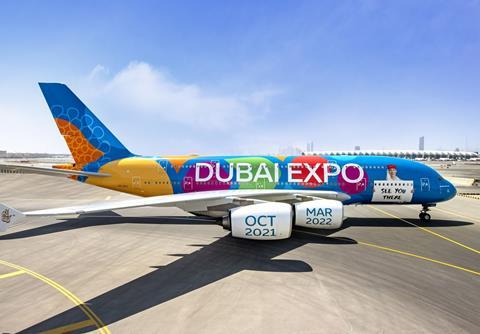 Emirates says the livery was designed and painted by its in-house teams.
"The livery was not just a decal, but a complete paint project, and is by far the largest one the airline has ever embarked on," it states, adding that the process to paint the aircraft took 16 days.
Emirates says the jet will be flown to Los Angeles on 29 September.