Entrepreneurs behind environmental ventures in the UK are aiming to set up a Scottish-based carrier operating turboprops powered by hydrogen-electric engines.
The would-be carrier, branded Ecojet, aims to use 70-seat and 19-seat aircraft types, retrofitted with the necessary powertrains.
It has indicated that De Havilland Dash 8-400s and DHC-6 Twin Otters are candidates for its planned operation.
Ecojet intends to commence domestic services early next year, initially out of Edinburgh, and subsequently expand to European destinations.
But the retrofit process will not start until 2025, about a year after the carrier embarks on its first flights. Until then Ecojet will use conventional fuel.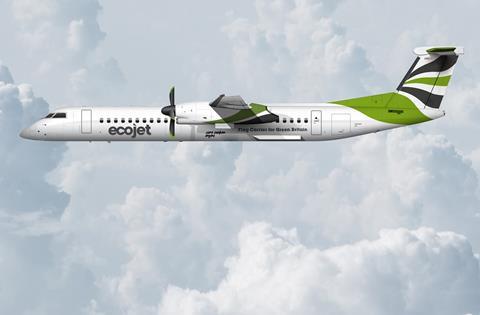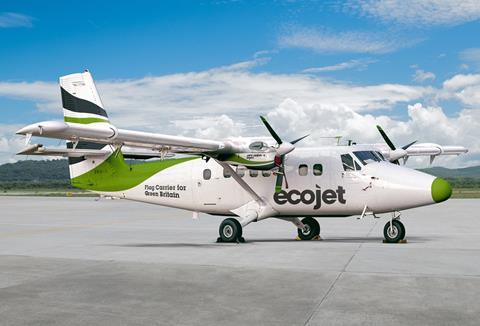 "Ecojet is by far the most significant step towards a solution [to sustainable air travel]," claims industrialist Dale Vince, who is spearheading the airline's creation.
"Flights free of [carbon dioxide] emissions, powered by renewable energy, will allow us to explore our incredible world without harming it for the first time."
Vince describes Ecojet as the "world's first electric airline", adding that the modification of older aircraft will itself save on carbon emissions.
He adds that the on-board service would similarly follow environmentally-friendly concepts, including offering plant-based catering and eliminating single-use plastic.
"Electric motors are almost silent and, of course, emit no pollution," the company states. "This means that passengers on board will experience a far more peaceful and relaxing flight."
Ecojet has emerged from a previous Edinburgh-based company known as Fresh Airlines, incorporated in August 2021, according to UK corporate filings.
Vince was appointed as a director in March this year. He is a founder of the renewable energy company Ecotricity, which is part of a broader environmentally-focused firm known as Green Britain Group, with interests in carbon-capture diamonds, vegan food production, and the UK football team Forest Green Rovers.