Middle Eastern carrier Etihad Airways has operated a commercial passenger flight from Abu Dhabi to Tel Aviv, which it claims is the first such service from a Gulf state to Israel.
Etihad Airways' flight EY9607, flown with a Boeing 787-10 (A6-BMH), landed on Tel Aviv's runway 12 at about 07:00 on 19 October. The airline is billing the service as a travel trade mission.
Its 787 will depart to Abu Dhabi after a couple of hours and return to Tel Aviv on 21 October, says Etihad.
The carrier, which recently operated a Milan-Abu Dhabi service through Israeli airspace, has recently opened a section of its website in the Hebrew language.
All of the steps follow the normalisation of diplomatic relations between the United Arab Emirates and Israel, out of which is likely to emerge an air services agreement.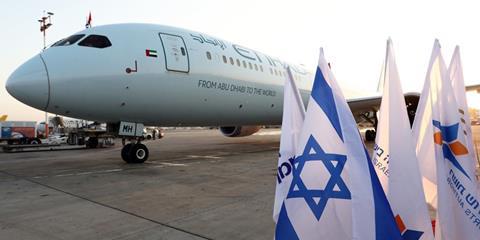 "We are just starting to explore the long-term potential of these newly forged relationships, which will be sure to greatly benefit the economies of both nations, particularly in the areas of trade and tourism," says Etihad Aviation Group chairman Mohamed Mubarak Fadhel Al Mazrouei.
Etihad says the 787 flight – which is being conducted in partnership with Israeli transport handling specialist Maman Group – is scheduled to "bring Israel's top travel and tourism leaders" to the UAE, at the invitation of Abu Dhabi's tourism industry.
Al Mazrouei describes the occasion as a "historic opportunity for the development of strong partnerships" between the two countries.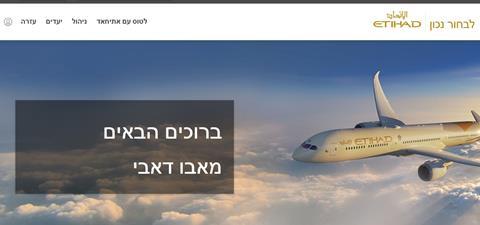 Israeli flag-carrier El Al operated a symbolic flight between Tel Aviv and Abu Dhabi on 31 August, ahead of the signing of the Israeli-UAE normalisation pact known as the Abraham Accords.
Etihad had previously operated one-off cargo flights to Tel Aviv, as part of a humanitarian freight service.
Israel's government has also reached a memorandum of understanding with Bahraini authorities covering civil aviation, as part of a broader diplomatic agreement with the kingdom.
Members of a high-level Israeli delegation travelled to Bahrain on 18 October and signed a joint declaration with the Bahraini government which also included memoranda on co-operation in such areas as finance, economics, communications, agriculture, and foreign affairs.