Russian airlines will be prohibited from acquiring aircraft, spares and equipment under a sanctions initiative to be imposed by the European Commission.
Commission president Ursula von der Leyen outlined the measures on 25 February, following a special meeting of the European Council.
She says the Commission will "ban the sale of all aircraft", as well as related equipment, to Russian carriers.
"This will degrade the key sector of Russia's economy and the country's connectivity," adds von der Leyen, pointing out that Russia is "massively depending" on European-, US- and Canadian-built aircraft.
While the Russian government has been re-invigorating its commercial aviation manufacturing industry, with the aim of being less dependent on foreign models, key programmes to produce modern aircraft are still in the developmental stage.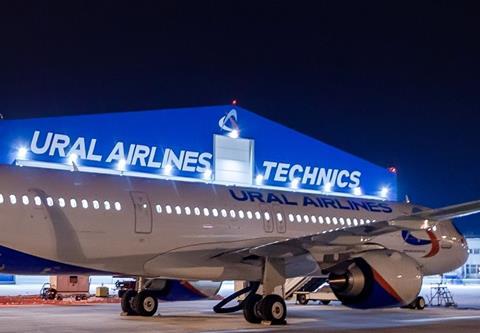 Russian carriers have tended to acquire foreign-built aircraft through leasing arrangements, rather than direct orders from the manufacturer.
Ural Airlines has built a fleet of 54 Airbus single-aisle jets, for example, through such agreements – the carrier has taken delivery of two new aircraft – both A321neos, with the Bermuda registrations VP-BFM and VP-BFJ – during February. It has been planning to take another pair by the end of this year.
S7 Airlines is similarly a large operator of leased Airbus single-aisle models, with some 70 jets, also Bermuda-registered.
Aeroflot has placed direct orders with Airbus, with a deal for 22 Airbus A350-900s, of which eight have been delivered.
All three carriers are among the main five operators in Russia.
Von der Leyen says that, as part of the sanctions regime, Russian access to important technology – such as semiconductors and other components – will be limited.