Members of the European Council have called on all European Union-based carriers to avoid overflights of Belarus in response to the forced diversion of a Ryanair Boeing 737 to Minsk.
It is also seeking further "targeted" economic sanctions and relevant measures against persons and entities "as soon as possible".
The Council, during a 24 May session, called for necessary measures to block Belarusian airlines' entry to EU airspace and access to EU airports.
It is urging ICAO to investigate the "unprecedented and unacceptable incident" involving the Ryanair flight from Athens to Vilnius on 23 May.
European Commission president Ursula von der Leyen says the diversion of the flight involved "unjustified intervention" by military aircraft and "misuse" of air navigation services, to carry out an "attack on democracy" and an "attack on freedom of expression".
"The European Council decided that there will be additional sanctions on individuals that are involved in the hijacking, but this time also on businesses and economic entities that are financing this regime," she says.
"Belarus used its control over its airspace in order to perpetrate a state hijacking. Therefore, the safety and security of flights through Belarus airspace can no longer be trusted."
ICAO says it has called an "urgent" meeting of the 36 representatives to its Council for 27 May regarding the event.
The European Council states that it "strongly condemns" both the jet's diversion – describing as "endangering aviation safety" – and the detention of two individuals.
It has demanded that the individuals be released immediately and their freedom of movement be guaranteed.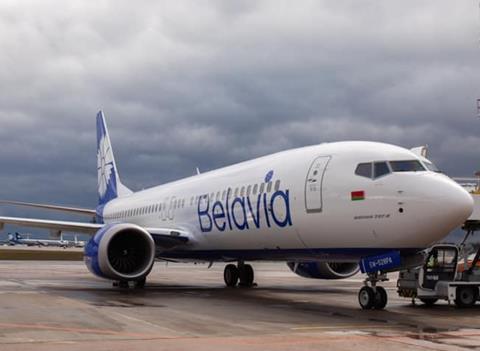 The Council's statement follows the UK Civil Aviation Authority's banning of operations by all Belarusian carriers until further notice.
All foreign carrier permits held by Belarusian airlines are being suspended, says the CAA.
This will apply to the flag-carrier, Belavia, which carries out scheduled services to London Gatwick, as well as to charter operators.
All UK-registered carriers are being asked by the regulator to avoid overflying Belarusian territory.
Operators in Belarus include cargo carriers RubyStar Airways and Transaviaexport.
Belavia states that the Lithuanian government has similarly banned the carrier's flights, and it has cancelled its Vilnius services from 25 May.
"We apologise and also regret the situation for reasons absolutely beyond our control," it adds.