Kuwaiti budget carrier Jazeera Airways is fitting lightweight seats to its expanding fleet, and intends to open additional routes before the end of this year.
Jazeera turned in a KD6.27 million ($20.4 million) net profit for the first half.
Although this was some 15% down on last year's interim, the previous figure had included an engine sale-and-leaseback gain of more than KD1.7 million.
"We remain optimistic and confident of our performance," says chair Marwan Boodai.
"Demand for travel is high and we are pleased to see that reflected in the increased passenger traffic as well as consistent load factors."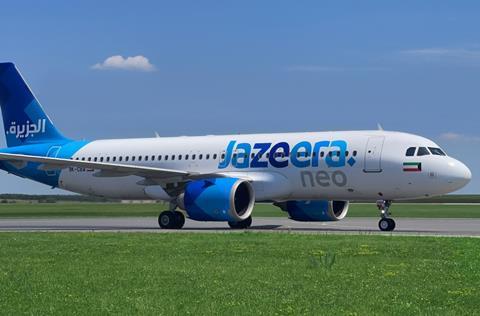 First-half revenues were up 26% to KD97.8 million and the operating profit reached KD9.3 million.
Jazeera has extended its network to Moscow, Samarkand, Larnaca, Shiraz, Belgrade, Tirana and Tivat over the second quarter.
Boodai says the carrier is aiming to open more services, for business and leisure passengers, during the second half.
Jazeera has introduced two additional jets to its fleet and signed for over 2,000 lightweight seats with which to modernise its aircraft – cutting 1.2t and providing an extra seat row for each airframe. It adds that it will be progressing towards adding three more aircraft by the end of the year.