East Russian carrier Aurora has emerged as a customer for the Ilyushin Il-114-300, the modernised turboprop which is undergoing a certification flight programme.
United Aircraft general director Yuri Slyusar told Russian president Vladimir Putin during a recent meeting that Aurora was ordering 19 of the type.
Aurora was a part of Aeroflot Group until the company was divested for a token sum towards the end of 2020.
The carrier operates a network centred on the cities of Khabarovsk, Yuzhno-Sakhalinsk and Vladivostok.
Slyusar updated Putin, during the 15 July meeting, on progress with the Il-114-300 which conducted its maiden flight in December last year.
"The aircraft is being intensively tested," he said. "A second [prototype] is being built in the city of Lukhovitsy where we make our MiG-29s."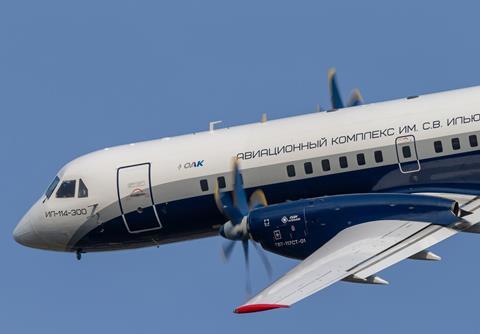 He added that the company has "modest plans" covering production of 12 aircraft per year but hoped that demand would increase in remote regions through aviation mobility support measures.
Aurora's fleet comprises 20 aircraft, among them nine Airbus A319s and 11 Canadian-built turboprops.
It has yet to confirm the agreement for the Il-114-300s but a formal deal could be unveiled during the MAKS Moscow air show which opens on 20 July.