Freight giant FedEx will ground more aircraft after both revenues and operating income declined during its fiscal fourth quarter due to "demand weakness and cost inflation".
In a results call on 20 June, FedEx Corporation president and chief executive Raj Subramaniam said that the company had retired 18 aircraft, including 12 MD-11Fs, during the quarter ended 31 May and there were plans to "take out" another 29 aircraft from scheduled flying during the coming fiscal year.
Flight hours during the fiscal fourth quarter were down 12% compared with last year, he says.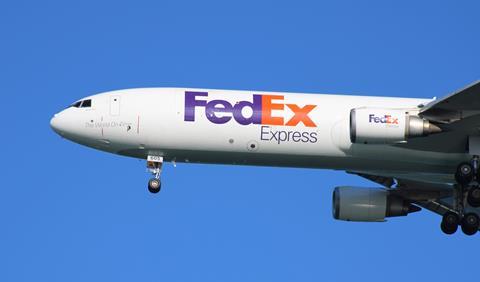 The move comes as FedEx Express saw its fourth-quarter revenues decline 13% year on year due to demand dynamics and yield pressure.
FedEx chief financial officer Mike Lenz says that the plan had been to reduce its fleet when the supply-demand constraints experienced in recent years eased.
"We continue to reduce the transpacific and transatlantic flying to match demand, and we'll continue to lean into that as well as utilising the flexibility of capacity in the market," he says.
The company is in the midst of a cost-saving initiative that it hopes will reduce annual costs by $4 billion by June 2024.
As well as reducing its aircraft numbers, the company has also reduced its headcount by 29,000 and closed facilities.
In the fourth quarter, revenues at the express division were down 12.8% year on year to $10.4 billion while operating income was down 51.5% against a year earlier to $430 million.
Overall FedEx revenues for the quarter – including its ground and freight segments – were down 10.1% to $21.9 billion and operating income fell 21.8% to $1.5 billion.
Damian Brett is editor of Air Cargo News