Finnair has drawn up incentive plans to support its strategic efforts to restore profitability, based on pre-tax earnings targets.
It has approved a personnel plan for 2023-25 which covers staff groups that contributed to savings agreement as the carrier sought to reduce unit costs – this plan envisions a cash payout in the first quarter of 2026 if the earnings margin is achieved.
Finnair's board could approve the addition of further personnel groups to the plan.
The airline is also offering a share-based plan for management to encourage an increase in long-term shareholder value.
This plan, which includes around 70 participants, will cover 2023-24 and 2023-25. Chief executive Topi Manner and the company's executive board are among those taking part.
It will result in a share payout if Finnair reaches the earnings margin target. The margin for 2023-24 is based on restoration of profitability while that for 2023-25 centres on "significant" profitability improvement, the airline states.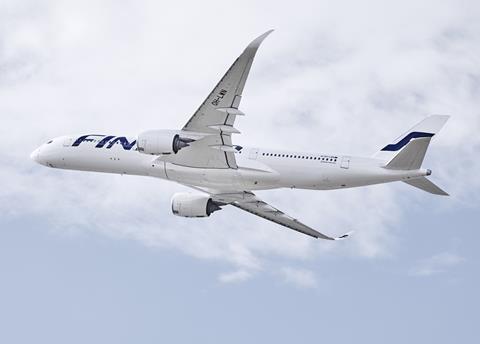 Finnair says it is reinstating long-term remuneration for the senior management, following its suspension for three years as part of the Finnish government's support programme during the pandemic.
Up to 9.1 million shares in total could be transferred to participants after each performance period.
"Restoration of Finnair's profitability after two significant successive external crises has…got off to a good start," says Finnair chair Jouko Karvinen.
"We want to support the journey towards profitability, profit improvement and value creation with long-term programmes that have a common improvement metric and clearly increase shareholder value."