Finnair is intending to reinforce its financial position with a share issue aimed at raising €600 million ($632 million) during the fourth quarter of this year.
The airline says the Finnish government, its main shareholder, is supporting the rights issue, along with other interested parties.
Finnair says it will use the proceeds to reduce financing costs – repaying the outstanding part of a €400 million capital loan – and underpin its strategic plans to achieve sustainable profitability.
Outgoing chief executive Topi Manner says the rights issue will also give the carrier the ability to make future investments and address its long-term carbon-neutrality ambitions.
Finnair will seek shareholder authorisation for the issue on 27 October. Current shareholders will have pre-emptive subscription rights.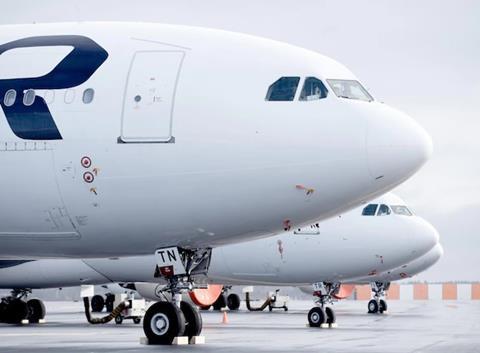 The Finnish government holds almost 56% of the company and has already notified Finnair that it will subscribe to its pro rata share, as will three pension insurance companies which collectively own 3.4% of the airline.
Finnair says the remaining offering of about 40.7% is fully underwritten on a standby basis.
The carrier says the proceeds will put the company in a position to meet financial targets, including a comparable operating profit margin of 6% by the end of 2025.
Finnair also wants to reinstate its capability for shareholder distribution from that point.
The airline, after emerging from the effects of the pandemic, has been forced to review its strategy after the closure of Russian airspace substantially disrupted its crucial Asian network.
Finnair chair Sanna Suvanto-Harsaae says the rights offering is a "logical next step" to restoring a "more normal" and sustainable capital structure.
"It will support the continued execution of our strategy and enables us to continue to enhance shareholder value, also through shareholder returns," she says.