UK regional carrier Flybe's administrators intend to appeal to the government in a bid to retain the airline's operating licence, warning that a sale of the business would become improbable if the licence is revoked.
Flybe ceased operations on 5 March and voluntarily suspended its operating and maintenance licences.
The administrators believe that a going-concern sale of the business and assets "may be possible" and is being "fully explored", according to a statement of proposals.
Its efforts have resulted in over 200 interested parties and 90 issued information memoranda, and generated submissions of around 20 non-binding offers.
There are three parties which have shown an interest in a transaction for the business and assets – although not necessarily the company as a legal entity – and the administrators are working towards receiving final offers for evaluation in early May.
Although negotiations are continuing, the administrators point out that the coronavirus crisis makes the timeframe to complete a sale "challenging", owing to travel restrictions, capital constraints, eroding valuations and "diminished bidder appetite".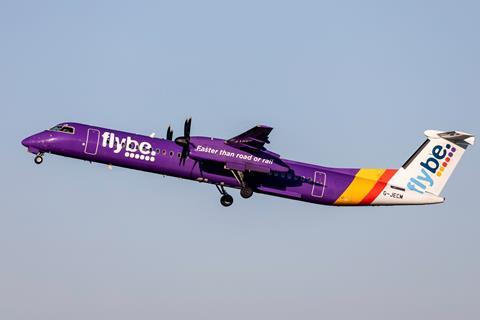 Flybe's operating licence potentially presents another obstacle. The administrators had appealed a licence revocation notice issued immediately after the carrier ceased operations, and the matter was heard by a Civil Aviation Authority panel on 27 March.
But the CAA ruled on 16 April that it intended to support the revocation, arguing that progress in the acquisitions process did not support a realistic prospect of a transaction.
The administrators dispute this view, and insist that maintaining the licence will "best enable" them to achieve a sale of the airline.
"It is unlikely that a business sale, including the transfer of existing employees, will be possible if the operating licence is revoked, since it prevents the sale of the airport slots – which would be central to any bid for the business," they add.
Following the CAA decision the administrators had a two-week window in which to appeal, and the statement of proposals says they are intending to appeal to UK transport secretary Grant Shapps.
While a number of parties have shown interest in Flybe's slots – the total value of which is uncertain – the administrators say they are yet to receive "any offers capable of acceptance" because of the current uncertainty in the airline market.
"Administrators will continue to market the slots for sale, either through a group wide sale of the business or as a separate sale process," they add. The situation will depend on the outcome of the CAA proceedings.