Administrators of collapsed UK regional carrier Flybe are immersed in renewed scrap over the airline's operating licence, as the transaction to sell the business nears completion.
The administrators had already averted a bid last year by the Civil Aviation Authority to revoke the airline's licence, after the pandemic resulted in amended European legislation and a change to threshold tests for revocation measures.
Investors from an entity called Thyme Opco subsequently agreed, in October last year, to acquire the business, its airport slots, brand and other assets.
But the administrators state, in an update on progress, that the CAA revived its effort to withdraw the carrier's operating licence, as well as the route licences, in January.
After a panel hearing, they add, the regulator decided on 9 March to revoke the operating licence – prompting the administrators to appeal directly to the UK transport secretary to reverse the decision. The appeal remains in process.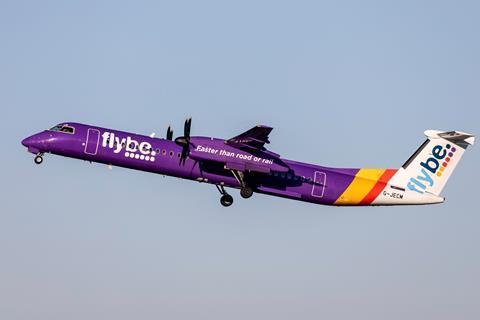 The administrators disagree with the reasons set out by the CAA and have previously claimed that the operating licence is vital to the airline's retaining airport slots that are part of the transaction.
Thyme Opco is set to change its name to Flybe Limited, shortly before the transaction is completed, while the company in administration will be renamed FBE Realisations 2021.
While a "large volume of offers" was received for various parts of Flybe, say the administrators, there were "no other willing third parties" interested in acquiring the business and assets of the company, including its landing slots.
Administrators have separately sold the entire maintenance business, Flybe Aviation Services, as well as the training academy property and equipment, plus spares and tooling. Third-party agents have been recruited to market a batch of nine Pratt & Whitney Canada PW150 engines held by the former carrier.