Collapsed Norwegian carrier Flyr's administrator believes there will be no funds available for non-priority creditor claims, once it has addressed those with greater precedence such as wage arrears.
Flyr was placed in bankruptcy by an Oslo court on 1 February. Law firm Kvale held an initial creditor meeting on 16 February, of which FlightGlobal has obtained details.
Provisional accounts show Flyr made a full-year pre-tax loss of nearly NKr1.16 billion ($112 million) for 2022, on sales of NKr1.32 billion.
As of 9 February the airline had just over 30,500 shareholders who collectively owned more than 25.6 billion shares. The largest shareholders were Stadssalg with 6.4%, Nordnet Livsforsikring with 5.7%, and Ojada with 4.1%.
Kvale has set an 8 March deadline for submitting claims to the estate. Processing of the estate will not be completed until the first half of 2024, at the earliest, it believes.
It estimates that employees have outstanding holiday pay claims for 2022 and 2023 exceeding NKr30 million ($2.9 million), and that additional entitlements could bring the overall wage claim to NKr40-50 million.
There is "currently a prospect" that these priority claims will receive a dividend, says Kvale, although it is "uncertain whether there will be full coverage".
But it adds that, based on information it has obtained, there is "no prospect" for payment from the estate for non-priority claims, including those from passengers. At the time of the bankruptcy the airline had sold some 160,000 flights scheduled to depart before the end of October.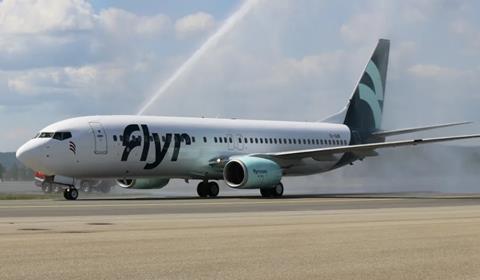 Managing the estate has been "very labour-intensive", Kvale says, with a "large number" of work streams having to be handled in parallel in order to gather information, cut costs and secure value.
Alongside discussions with management and employees, the company has been handling the lease of Flyr's 12 Boeing 737-800 and Max 8 aircraft, scrutinising its accounts to uncover additional assets, making contact with the Norwegian civil aviation regulator, and negotiating to downscale the airline's IT infrastructure.
The administrator has recruited another legal specialist to assist with queries over the fleet, such as whether the estate could be due return of deposits or advanced lease and fuel payments.
Flyr had highlighted its digital capabilities when it started up, and the administrator is exploring the possibility that its IT contains valuable intellectual property rights.
The administrator quickly held a round of bidding for a quantity of aircraft parts and equipment located at Oslo Gardermoen airport, following "great interest" from domestic and foreign entities.
Kvale received a "significant number of bids" and it accepted a NKr5 million offer from budget operator Norwegian on 14 February.