Germany's Fraport has upped its target to cut its directly-controlled carbon dioxide emissions at Frankfurt airport.
The airports operator says it aims to emit a maximum of 50,000t of CO2 a year from areas that fall under its direct control at Frankfurt by 2030, down from a previous maximum target of 75,000t a year. Frankfurt currently emits 116,000t of carbon dioxide annually.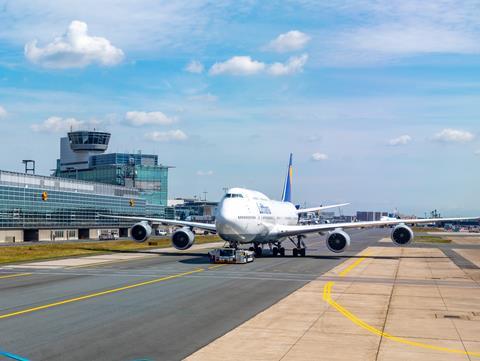 Fraport acknowledges, however, that it only has direct responsibility for about 10% of Frankfurt airport's CO2 emissions. The vast majority of an airport's emissions come from the aircraft that use it. The operator says it is working with airlines, German rail company Deutsche Bahn and other local industry partners to implement joint climate measures covering emissions beyond its direct control.
Fraport chief executive Stefan Schulte says that while he welcomes "any political initiative to protect the planet's climate", the operator "cannot allow unfair competition to be the end result". Schulte asserts that "if flying becomes more expensive only within Europe, passengers will simply switch to other routings".
In the neighbouring Netherlands, the Dutch government has proposed a cap on the number of flights operating to and from Amsterdam Schiphol in order to address local concerns about noise and emissions. The government last June proposed limiting aircraft movements at the hub to a maximum of 440,000 a year, down from the current capacity of 500,000. This has prompted KLM and other airlines to take legal action against the proposal, arguing that the aviation industry has set its own decarbonisation targets.
For its part, Fraport plans to meet its adjusted carbon-reduction target largely by sourcing power from renewable sources. The company says that by 2026, 85% of its electricity needs at Frankfurt will be met by wind energy from the North Sea, through a power purchase agreement (PPA) with German energy company EnBW. Another "significant proportion" of its energy will come from solar power.
"We've set the pace in Frankfurt by opting for a high-quality PPA and modern photovoltaic systems at an early stage and by consistently pursuing these two approaches," says Schulte. In addition to renewable energy and the expansion of alternative propulsion methods for airport equipment, Fraport is looking at "smart, needs-driven building technology for air conditioning and lighting" and the continued switchover to LED lights.
By 2045, Fraport says it aims to be CO2-free at Frankfurt as well as at all of the group's fully-consolidated airports around the world. These include Lima in Peru, Burgas and Varna in Bulgaria, Ljubljana in Slovenia, Fortaleza and Porto Alegre in Brazil, and 14 airports across Greece. It will do this without the use of carbon offsets.
"We're not going to rely on compensatory measures and their impact in the distant future. We're taking the direct route," says Schulte.