Airbus insists it is not taking a self-serving approach to the cancellation of aircraft orders for Qatar Airways, and that it remains interested in reaching a mutually-acceptable settlement in its dispute with the flag-carrier.
The two sides have been engaged in a highly-public spat over fuselage skin-paint deterioration on several aircraft in Qatar's A350 fleet.
Chief executive Guillaume Faury confirmed during a 17 February briefing that Airbus had taken the decision to cancel a pair of A350-1000s ordered by the airline, shortly after the airframer axed Qatar's entire order for 50 A321neos.
Although the A350 is at the centre of the row, the decision frees far more slots for the popular A321neo than the A350 – sales of which have been slack in the weak long-haul market.
But Faury says this is "not self-service, not at all".
"It comes from the contractual situation with Qatar," he says, and "not anything else" beyond the specific issue with the airline.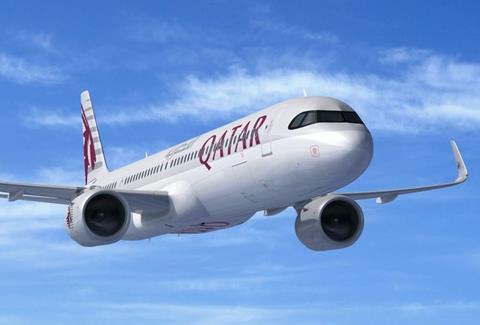 Faury says the manufacturer has been "super-transparent" in explaining the situation to other A350 operators, and says it is in discussion with its customers.
But he stresses that "no other airline" sees the situation as an airworthiness issue, and recent orders for the A350 freighter back up his view that there is no "broader impact" on its A350 programme.
Qatar Airways, which claims that airworthiness is a valid concern, has withdrawn over 20 A350s from service.
"When it comes to the dispute with Qatar, it's something we don't feel good about," says Faury. The airframer fundamentally disagrees with Qatar's belief that there is a safety concern, and is taking legal steps to challenge the airline and defend the A350.
"We hope for an amicable solution," says Faury, adding that Airbus is taking the matter "seriously" and considers its relationship with customers as having the "utmost importance".